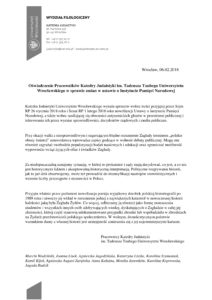 The Jewish Studies Department at the University of Wroclaw expresses its opposition to amendments passed by the Polish Parliament on January 26, 2018 and the Senate of the Republic of Poland on February 1, 2018 regarding the law on the Institute of National Remembrance (IPN), and to the increasing presence of antisemitic voices in the public sphere, as well as to the fact that these voices are being tolerated by the judiciary, by government decision-makers, and by public media.
In its fight against the use of the term "Polish death camps," which implies an unjust and incorrect understanding of the Holocaust, the government has begun introducing provisions that compromise the freedom of public debate. They also potentially threaten the freedom of scientific research and education, and place limits on freedom of speech in statements made by the surviving victims and witnesses of the Holocaust. We find it unacceptable that the chief prosecutor and the courts are to decide what is and what is not an historical fact, and what comprises an acceptable historical interpretation. We cannot stand by as the politicization of history intensifies chauvinistic attitudes and causes an increase in the number of hate crimes in Poland.
The amendments adopted by the parliament ignore the exceptional achievements of Polish historiography after 1989, and negate their contribution to the understanding of one of the greatest disasters in contemporary history that was the Holocaust. Furthermore, we regard it as a means of intimidating students and anyone else engaged in learning about and discussing the Holocaust in all its complexity, including documented cases of crime or complicity in the crimes committed on Jews by representatives of Polish society. In a free and democratic state, pride in one's own history is conditional upon the ability to come to terms with its darkest moments.
Staff of the Tad Taube Jewish Studies Department
Wrocław University
Marcin Wodziński, Joanna Lisek, Agnieszka Jagodzińska, Katarzyna Liszka, Karolina Szymaniak, Kamil Kijek, Agnieszka August-Zarębska, Anna Kałużna, Monika Jaremków, Karolina Koprowska, Jagoda Budzik