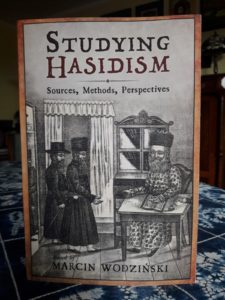 We are pleased to announce that Rutgers University Press has just published Studying Hasidism: Sources, Methods, Perspectives edited by Marcin Wodziński.
Hasidism, a Jewish religious movement that originated in Poland in the eighteenth century, today counts over 700,000 adherents, primarily in the U.S., Israel, and the UK. Popular and scholarly interest in Hasidic Judaism and Hasidic Jews is growing, but there is no textbook dedicated to research methods in the field, nor sources for the history of Hasidism have been properly recognized. Studying Hasidism, edited by Marcin Wodziński, an internationally recognized historian of Hasidism, aims to remedy this gap. The work's thirteen chapters each draws upon a set of different sources, many of them previously untapped, including folklore, music, big data, and material culture to demonstrate what is still to be achieved in the study of Hasidism. Ultimately, this textbook presents research methods that can decentralize the role community leaders play in the current literature and reclaim the everyday lives of Hasidic Jews.
For more information please go to Rutgers University Press.