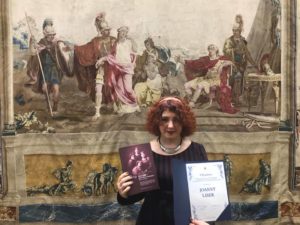 Joanna Lisek received first place in this year's edition of the Józef Gierowski and Chone Shmeruk Award for the best academic publication in the field of the history and culture of Jews in Poland for her monograph entitled Kol isze – głos kobiet w poezji jidysz (od XVI w. do 1939 r.) [Kol ishe – The Voice of Women in Yiddish Poetry (from the 16th century to 1939)]. The ceremony took place at the Jagiellonian University on 4 November 2019.
"The monograph builds a broad yet rich in detail panoramic description that is erudite and deftly combines the literary workshop with methodology of research on women's literature. It seeks to revindicate the reputation of Yiddish female poets by both enhancing the Yiddish creativity of women in general and by of the work of women authors who were previously silent, little-known or underestimated" wrote jurors Prof. Eugenia Prokop-Janiec and Prof. Magdalena Ruta.
The Józef A. Gierowski and Chone Shmeruk Award, which includes a prize of 20,000 zł., was established by various academic centers associated with Jewish Studies at the Jagiellonian University and the Marii Curie-Skłodowski University in Lublin with financial support from the Marcel and Maria Roth Foundation.