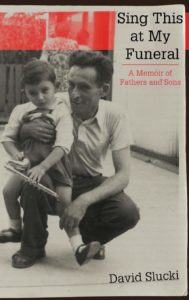 Please join us on Wednesday 27 November at 18:30 in the Prof. Woronczak lecture hall at the Taube Department of Jewish Studies (ul. Św. Jadwigi 3/4 room 115) for a lecture in English
by Prof. David Slucki on A Bundist in post-Holocaust Wrocław.
Prof. Slucki will be speaking about his father, Jacob Slucki, one of the leaders of Bund in post-war Wrocław, within the wider social and political context of Jewish life in Poland after the Holocaust.
Slucki's presentation will be based on his two books: "The International Jewish Labor Bund after 1945" (2012) and "Sing This at My Funeral: A Memoir of Fathers and Sons" (2019).
This is an open lecture to which all are welcome.