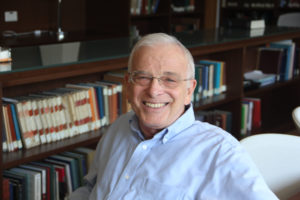 Since 1959, Yad Hanadiv has awarded the Rothschild Prizes in recognition of original and outstanding published work in the following disciplines: Mathematics/Computer Sciences and Engineering, Chemical Sciences and Physical Sciences, Life Sciences (every two years), Jewish Studies, Humanities and Social Sciences (every four years).
Our heartfelt congratulations to Moshe Rosman, Professor emeritus at the Department of Jewish History at Bar-Ilan University, for this prestigious recognition of his contributions to the field of Jewish Studies.
Mazal tov!
Awarded the degree of doctor honoris causa by Wrocław University on 15 November, 2016, Prof. Rosman has been singled out on numerous occasions for his prodigious contribution to the field of Polish-Jewish history. Over a lengthy career, Rosman has conducted pioneering research on the history of Polish-Jewish relations, Hasidism, historical methodology and the history of Jewish women. His impact on the development of Jewish Studies as an academic discipline, especially in Poland, has been more than significant, as has his intensive work with students at all degree levels.
Rosman has in the past described how both Poland and Polish historiography had changed profoundly since his first research trip there in 1978. He has also noted the connection between the democratization of Poland and the reclaiming of its Jewish heritage. Most of all, he has emphasized how Jews have been re-inserted into the Polish historical narrative.
Rosman was only the second foreign scholar working on a Jewish topic to be allowed into the archives of communist Poland after World War II. He has conducted extensive research in Poland, and two of his prize-winning books, The Lords' Jews (Polish edition: "Żydzi pańscy" published by the Biblioteka Narodowa) and Founder of Hasidism, are largely based on Polish sources. In addition, Prof. Rosman has been a visiting professor at Wroclaw University (which published his book "Jak pisać historię żydowską?") and has served as a consultant to the Polin Museum of the History of Polish Jews in Warsaw. He is currently working on a book about the history of Jewish women in Poland.*
*Based on: Bar-Ilan University. Bar-Ilan in the Press. Date: 2016-11-16 Hour: 11:38. (Date Accessed 04.01.2020)
https://www1.biu.ac.il/indexE.php?id=43&pt=20&pid=4&level=1&cPath=4&type=1&news=2820