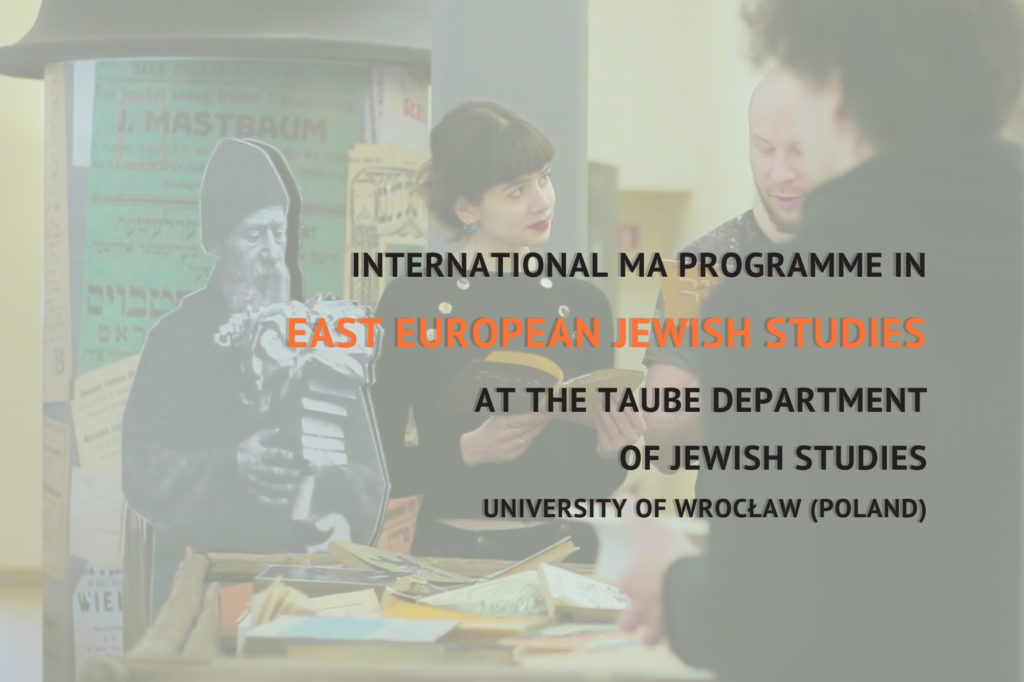 The Taube Department of Jewish Studies is proud to announce its new International MA Programme in East European Jewish Studies, taught entirely in English.
Be a part of it beginning October 2023 at the University of Wrocław in southwestern Poland.
Join us for three academic tracks and three languages over three semesters.
Our master classes and seminars focus on three key areas of Jewish life and experience in Eastern Europe. First, the Hasidism track examines the history of a major Jewish popular mystical movement that is flourishing worldwide. The second track centers on Yiddish literature and society in Eastern Europe. The third track examines the modern history of Polish Jews, pushing past received scholarly perimeters.
This is a perfect opportunity to develop critical language skills in Yiddish, Hebrew, and Polish. We also offer a unique course on Applied Jewish Heritage, developed in collaboration with the Taube Center for the Renewal of Jewish Life in Poland.
Students will interact closely with our excellent faculty members and world-renown guest lecturers. Small classes, generous studentships, and a close-knit community of scholars and students from all over the world make our Programme a premiere learning experience unavailable anywhere else in the world.
The Taube Department of Jewish Studies is located on Sand Island in Wrocław in southwestern Poland. This is possibly the most beautiful city you've never heard of in the heart of Europe, where East European Jewish memory and heritage run deep and wide. Our eighteenth-century building, where Nobel Prize winners dreamed and worked, is an inspiring place to begin exploring the many Judaica treasures in our local archives and libraries. Immerse yourself in the rich culture of Polish and Eastern European Jews, acquire cutting-edge academic research skills, and discover a wealth of material heritage.
Don't just learn history, live it – at the Taube Department of Jewish Studies at the University of Wrocław.
Beginning in October 2023 in Poland
For more information write to us at eejs[at]uwr.edu.pl or call us at +48 71 375 2811.
Click on the following links for even more information:
Follow us here: