In the beginning, there was a small group of enthusiasts gathered around Professor Jerzy Woronczak. Over time the group has evolved into a fully fledged Department of Jewish Studies with ten full-time faculty members, volunteers, collaborators, and doctoral students.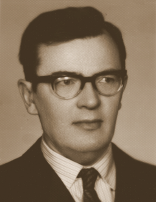 Jerzy Woronczak
The Department now offers a complete program of bachelor's, master's and doctoral degrees that emphasizes languages (modern Hebrew, Yiddish, biblical Hebrew, and Ladino), and a block of courses on history, literature, and culture studies that covers the period from biblical times to modern Israel. The bachelor's degree has both an academic and an educational track. Our students have won national and international scholarships and awards, and our graduates have found employment that allows them to put their Jewish studies to good use.
The Department is proud of the great variety of scholarly projects being carried out by its faculty, ranging from the social history of Hasidism, women's studies and gender studies, Yiddish and Ladino literature, major editorial projects, the cultural history of nineteenth and twentieth century Polish Jews, post-Shoah history and memory, to modern Israeli culture. Faculty members publish not only in two scholarly series edited by the Department, Bibliotheca Judaica and Makor/Źródła (Sources), but also in the most reputable national and international publishing houses and Jewish studies journals.
But Jewish studies in Wrocław are so much more…